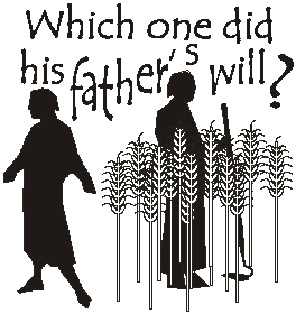 The parable for this Sunday, Sept. 28, 2014 (26A) was one of three parables Christ spoke in His last days. They are known in history as the Parables of Rejection. This day's Gospel was the first and shortest of the melancholy three. This Sunday we are also treated to one of the most beautiful passages about Jesus in the entire Bible. It is found in the Letter of St. Paul to the Philippians.


Sunday Readings'

Discussion Questions

Twenty-sixth Sunday in Ordinary Time, Sep. 28, 2014 (26A)

From the
Center for Liturgy at Saint Louis University

Sunday Mass Readings
Podcast of the Readings
Video of Reflections on Readings
Lecturas y Comentarios
New American Bible
Prayer of the Hours
BQ: Why Don't you Read the Bible?
--------------------------------------------
Questions on Sunday's Readings for use by discussion groups,
prayer groups, or for individual prayer.

--------------------------------------------

First Reading
Book of the prophet Ezekiel, Chapter 18, Verses 25-28
1. If you turn away from wickedness you are turning toward God. One spiritual writer calls turning toward God "conversion." Do you think you are converted just once or do you do it many times in your lifetime? If so, why? If not, why?
2. The Lord is quoted as saying, "When someone virtuous turns away from virtue to commit iniquity, and dies, it is because of the iniquity he committed that he must die." Does such iniquity affect the entire Mystical Body of Christ? What about a member doing good deeds?

Responsorial Psalm
Psalm 25: 4-5, 8-9, 10, 14
1. This Psalm can be likened to an Act of Contrition by our psalmist. By praying this Psalm before God, are you led to seek a remission of your sins? Explain.
2. We may have sympathy for the author of this Psalm (David). Can you identify with the psalmist, as he seeks God's mercies and confesses his sins? Talk about your own approach to seeking God's forgiveness.

Second Reading
Letter of St. Paul to the Philippians, Chapter 2, Verses 1-11
1. St. Paul tells us to have the same attitude that is also in Christ Jesus. In this reading what words describe his attitude? Can you act that way? What are Jesus' deeds as described in the reading? Can you do such deeds yourself?
2. The second part of the reading (which is left out in the alternate version, which a parish may choose), beginnign with the words "though he was in the form of God," contains the entirety of Christian, Catholic belief. Do you understand what it is saying? Can you put it in your own words?
Gospel
According to Matthew, Chapter 21, Verses 28-32
1. Using the idea of "conversion" (see the first question on the first reading), discuss the first son and the second son. Which one needed to change and turn toward his father? Are you presently in need of conversion in any area of your life? What counts in building community, saying some good words, or actually doing some good deeds? At which one are you better, words or deeds?
2. "When John came to you in the way of righteousness, you did not believe him," Why didn't the chief priests and the elders believe John the Baptist? Is it hard to think in new ways? Is it hard for you?
Online Sunday Bible Study Group
Please share below your reflections on the Sunday Readings. May we be blessed by God's words as reflected in your thoughts and experience-sharing.
--